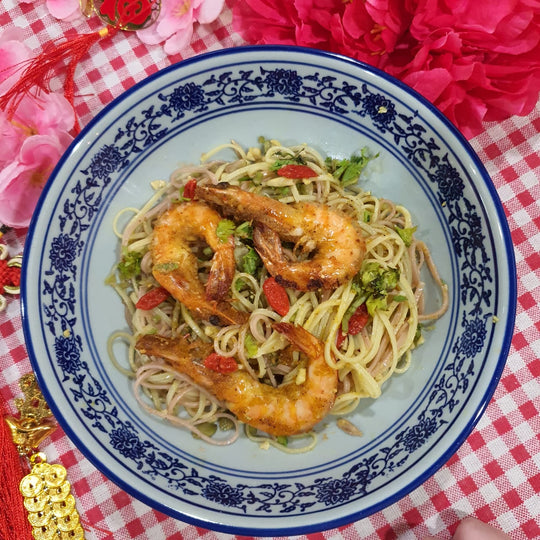 Enjoy good fortune and prosperity this Chinese New Year with a delicious and colourful serving of noodles!
Check out this featured 7 Colour Happy Prosperity Noodle below~
Special thanks to Jessie Koo for sharing this wonderful recipe and beautiful pictures!
7 COLOUR HAPPY PROSPERITY NOODLE  by
https://www.instagram.com/malaysianparenting/
INGREDIENTS
✅ Clearspring Avocado Oil
✅ Radiant Sesame Oil
✅ Radiant Cashew Nut
✅ Radiant Pumpkin Seed
✅ Radiant Organic Tri Veggie Noodle
✅ Radiant Sunflower Kernel
✅ Radiant Coconut Flour
✅ Radiant Shoyu
✅ Prawns
✅ Salt, Pepper for seasoning
✅ Goji Berries for toppings  
INSTRUCTIONS
Marinate prawn with soy sauce, sesame oil, pepper for at least 30 min. Coated with coconut flour and leave in for 5 min.
Placed cashew into zipper bag. Crushed cashew nuts to bits using a roller. Set aside, mix with sunflower kernel, pumpkin seed and dashed with avocado oil for the shiny outlook.
Placed organic tri veggie noodle into a pot of boiled water. At the same time get ready a pot of cold water by the side. Boil the noodle about 5 min for average texture. Depending to the softness of noodle preferred, once done- scoop up the noodle and put in through the cold water for about few second. This is to get the springy texture of noodle. Placed noodle into a big bowl, put 2 table spoon of sesame oil and mushroom seasoning in it and stir so that it do Not sticking to each other.
Cover 1/5 of a wok with avocado oil, enough to cover prawns. Coated prawn are to fried till golden brown so that it's crunchy.
Goji berry are to soak in water for 5 min to soften it. Lightly loosen the noodle covered it with nut mix and goji berry.
Finally placed the fried prawn on to the noodle dish and we got a colored, healthy dish for CNY that uses organic products.
If you are like me who loves coriander and red chili, chopped it and sprinkle on the dish.
Tried this (or any) of our featured recipes? Tag @radiantwholefood.organic on
Instagram
---