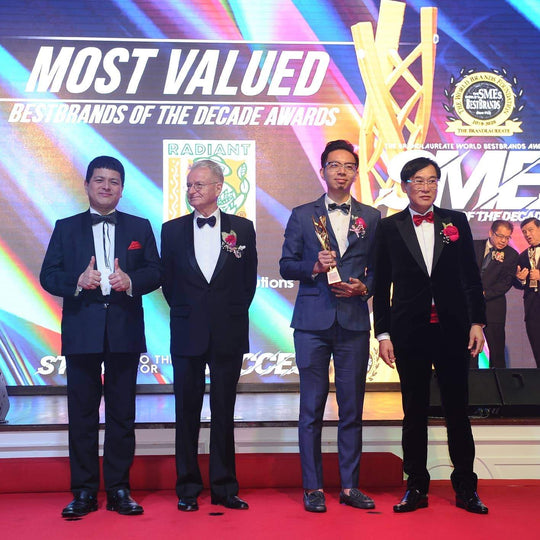 "Brands must have the vision of what they want to be and the right strategies to achieve it. Brands need to adopt smart branding and be innovative in their strategies if they want to outshine their competitors and maintain its market share." At Radiant, we believe in this and on 6th March 2020, #radiantwholefood was recognised in The BrandLaureate SMEs BestBrands Awards and received the Wellness - Organic Food Solutions 2020 title.
From <https://www.instagram.com/p/B9qCSq7JE2O/>
Winner of SME BrandLaureate Most Valueable BestBrands of the Decade under the Wellness - Organic Food Solutions category, Radiant Wholefood has 2 edges sustained for 20 years : Bringing wholefood around the whole world onto your table and being Truly Organic!
Bringing wholesome food around the world onto your table.
Radiant Wholefood has committed to this mission the entire journey, to ensure a person could get what he need in organic food offering at affordable price. This journey was tough especially at the early stage when the demand is low and the cost of raw material is high. Along the journey, there were a lot tough decision to make to maintain the product range especially when particular product range was suffering losses due to cost or the unstable supplies.
We worked through it and TODAY we carry more than 150++ SKUs of house brand products & 150++ imported brand.
Truly Organic
Radiant Wholefood is dedicated and determined to maintain its mission of offering Organic Food, despite many challenges along years, like:
competition from conventional food at lower price;
the tedious processes to compliance with organic standard (Biogro & MyOrganic) which mean extra cost;
the inconsistent supplies from the farms which we need to invest more resources to maintain multiple sources of supplies; and
Lastly, the investment needed to educate consumer of organic food, where many consumers don't fully understand.
To date, Radiant Wholefood maintains 90% of organic items in the product offering, where the balance are natural food.
So what's next for Radiant?
Moving forward, Radiant will be focusing on digitalization and systemizing all processes and standards to ensure a more stable and efficient work flow – this will result in better service to our customers.
On top of this, investing SOP of supply chain to achieve automation, constant R&D of new items/products around the world, and brand building are also in the works!
All in all, here in Radiant – it is not just about a profitable business, but the social responsibility to ensure consumer has the options of organic at affordable price.