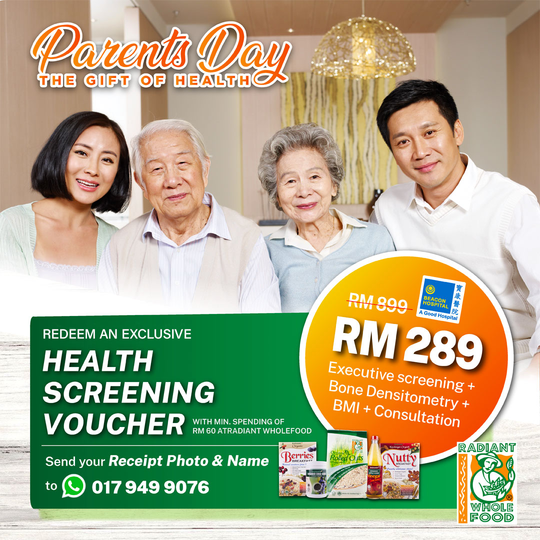 Parents' Day is celebrated to appreciate parents.  The reason for celebrating this day is to thank and acknowledge parents for all that they have done for their children ❤️
Show appreciation to the elders by taking care of their health and well-being this Parents Day! Redeem an Exclusive Health Screening Voucher by Beacon Hospital with minimum purchase of RM60 on Radiant products~
Important Note
Please keep original receipt and attach with the Health screening voucher during redemption
Purchase of Radiant products RM60 in single receipt is entitled ONE (1) redemption
Date on receipt should coincide with promo duration date 1st May – 11th July 2021
TERMS AND CONDITIONS:
The "PARENTS DAY, THE GIFT OF HEALTH" Is Organized by Radiant Wholefood
Duration: 1st May – 11th July 2021
Eligibility
1.1 All Radiant Wholefood customers are eligible to participate in this contest.
1.2 To be eligible to participate in the contest:
Be 18 years of age and above;
Proof of purchase of Radiant products RM60 in a single receipt within promotion duration
Promotion Details & Voucher Redemption:
2.1 Voucher:
Customers will be able to redeem an exclusive health screening voucher from Beacon Hospital
Executive screening voucher + Bone Densitometry + BMI + Consultation worth RM899 for only RM289!
Book an appointment with Beacon Hospital before visiting to redeem the voucher
Redemption period valid until 31st September 2021
2.2 Steps to join:
Purchase of any Radiant Wholefood products of RM60 in a single receipt to entitle ONE (1) redemption
Whatsapp entry: Send the clear picture of the Proof of Purchase (Receipt photo) and Full name via WhatsApp application to 017-949 9076. Health voucher will be whatsapp/emailed over
Collection at cashier counter: Collect at retail cashier and attach original receipt on voucher
Book an appointment with Beacon Hospital before visiting to redeem the voucher
Visit Beacon Hospital with voucher and attach original receipt during redemption
2.3 Customers who submit by Whatsapp entry will receive vouchers via email or whatsapp
2.4 Each participant will be entitled to redeem ONE (1) unit of the promotion health screening package
Rights of the Organizer
3.1 If, for any reason, the promotion is not capable of running as planned by reason of, but not limited to, bugs or technical failures, Radiant Wholefood reserves the right to cancel, modify or suspend the promotion and select the redemptions at its sole discretion and disqualify anyone who, in their opinion, has tampered with or disrupted the entry process or operation of this promotion or violated the rules.
3.2 All participants entering this promotion agree to be bound by the terms and conditions set by Radiant Wholefood.
3.3 Radiant Wholefood reserves the right to:
Substitute the package with others of similar value without prior notice.
Use your image for marketing, advertising and/or related purposes
Revise some or all the Terms and Conditions without prior notice.
Disclosure
Radiant Wholefood has the rights to change the date and time for promotion announcement and participation submission.
By participating in the Parents Day, The Gift of Health promotion, you indicate that you accept these guidelines and terms of use and that you agree to abide by them. Any violations of these terms and conditions shall make the user liable for any breach and shall lead to forfeiture of any prize, package and or benefit arising from participating in the promotion.
RADIANT WHOLEFOOD shall have the right at its sole discretion to retain and use any or all comments, suggestions, data or other information contributed by a user to the Parents Day, The Gift of Health in current or future products or services without further compensation to the user. By signing up for the promotion, each user hereby assigns to Radiant Wholefood all his/ her intellectual rights in any picture, video and or information submitted/ uploaded in relation to the promotion.
Phone numbers are only collected to enable Radiant Wholefood to contact participants in line with the terms and conditions of the competition, and will not be stored or shared externally
The decision of the Organizer is final and no correspondence will be entertained.
Prizes, packages are neither redeemable nor exchangeable for cash.