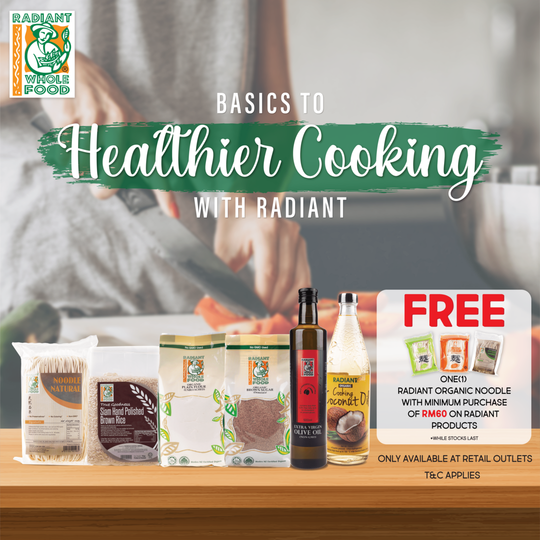 Healthy cooking is easy when you have the basics down, and making the changes is easier than you think!
Besides learning basic cooking techniques, building a healthy pantry is very important to start your journey to a healthier lifestyle.
Quick Tips:
Swap 'white' ingredients with 'brown' - Use brown sugar instead of white refined, consume brown rice instead of white rice, skip the processed salts and flour and go for unbleached instead.
Stock up on superfood - Nuts, seeds, legumes, beans and pulses are super foods that are great for many cooking recipes.
Know your oils - Every oil comes with different heat limits, cook with the right oil to enjoy the benefits. Extra Virgin oils are great for low-heat and dressings. Grapeseed, cooking coconut and soybeans are great for medium to high-heat cooking.
PROMO ALERT : From 23 August 2021 - 30 September 2021, Get one (1) FREE Radiant Noodle when you purchase minimum RM60 on Radiant products!
Important Note
Collection at cashier counter, while stocks last
Purchase of Radiant products RM60 in single receipt is entitled ONE (1) Free Radiant Noodle
Promo duration date 23 August - 30 September 2021
TERMS AND CONDITIONS:
The "BASICS TO HEALTHIER COOKING WITH RADIANT" Is Organized by Radiant Wholefood
Duration: 23/8/21 - 30/9/21
Free Gift: One (1) Radiant Noodle, while stocks last
Only at selected and participating retail outlets*
| | |
| --- | --- |
| No.  | Selected Participating Outlets |
| 1 | ANTIDOTE ENTERPRISE  -  IPOH |
| 2 | BAMBOO COTTAGE HEALTH FOOD STORE - SEREMBAN |
| 3 | BEEZ ON NET HOLDING SDN BHD |
| 4 | CARELIFE ORGANIC             ( KAJANG ) |
| 5 | CB GROCER SDN. BHD. |
| 6 | CHUA LEE WOON - BATU CAVES |
| 7 | CLEAN EATING WHOLEFOOD SDN.BHD. |
| 8 | DAMO  WELLNESS  ENTERPRISE |
| 9 | DE FARMER'S PLACE FRESH MART SDN BHD |
| 10 | ECO GROCER DISTRIBUTION SDN BHD |
| 11 | EMINENCE TRADING |
| 12 | FAMILY DELIGHT NATURAL & ORGANIC - KUANTAN |
| 13 | FARMERS GREEN HOUSE SDN BHD - BUKIT TINGGI |
| 14 | FARMERS GREEN HOUSE SDN BHD - PUCHONG |
| 15 | FINE ORGANIC  GALLERY |
| 16 | FRIENDLY ORGANICS   ( KEPONG ) |
| 17 | GREEN CRAFTERS SDN BHD - KAJANG |
| 18 | GREEN GREEN  BAMBOO  ORGANIC  V. MART |
| 20 | GREEN GREEN ORGANIC HOME  ( KLANG ) |
| 21 | GREEN WELL  ORGANIC  CENTRE  ( KLANG ) |
| 22 | GREENWISH SUPPLIES (TAIPING) |
| 23 | JL ORGANICE ESSENTIALS - SEREMBAN |
| 24 | JOY CONCEPT SDN BHD - P'NG |
| 25 | JOY ORGANIC                 ( KEPONG ) |
| 26 | JUST FRUITS SDN BHD  -  TAIPAN |
| 27 | KAIT LIFESTYLE PLT  |
| 28 | KY SHOP ENTERPRISE |
| 29 | LOHAS ORGANIC LIVING ENTERPRISE (KEDAH) |
| 31 | LY ZERO ADDITIVE ORGANIC FOOD - PENANG |
| 32 | MHK BRIGHT (M) SDN BHD - KEPONG |
| 33 | MUMBIES TRADING PLT  |
| 34 | MY ONE NATURAL HEALTHCARE  ( JLN IPOH ) |
| 35 | NATURE CURE HEALTH SHOP (OURS ORGANIC) |
| 36 | NEW EARTH ORGANIC COMPANY ( KUCHING ) |
| 37 | NUTRI MART ORGANIC - PUCHONG |
| 38 | OON ORGANIC & NATURAL CENTRE  ( P'NG ) |
| 39 | ORGANIC FARMER  CHOICE  ( PENANG ) |
| 40 | ORGANIC FRESHMART  ENTERPRISE |
| 41 | ORGANIC OPTION   ( KL ) |
| 42 | PE ORGANIC SDN BHD - PJ |
| 43 | PUBLIC ORGANIC HEALTH RECOURSE |
| 44 | REZEKI LESTARI PLT |
| 45 | RISING SUN HEALTH FOOD SDN BHD        ( KEPONG ) |
| 46 | SOFETECH SDN  BHD   ( KLANG ) |
| 47 | SOGO (K.L.) DEPARTMENT STORE SDN BHD |
| 48 | STELLA FOOD HALL DISTRIBUTION - OUG |
| 49 | TCL ORGANIC RESOURCES SDN BHD ( KOTA KEMUNING ) |
| 50 | TEN ORGANIC SDN BHD - PENANG |
| 51 | THE PALM COTTAGE FOOD ENTERPRISE-B.PAHAT |
| 52 | UNICARE PHARMACY (M) SDN BHD - PJ |
| 53 | URBAN RETAIL  SDN  BHD   (SHAH ALAM) |
| 54 | VEGAN MALAYSIA PLT  |
| 55 | VIVA ORGANIC |
| 56 | WF ORGANICS NATURAL HEALTH FOOD CENTRE |
| 57 | YOLEK ENTERPRISE & TRADING  (OUG) |
| 58 | ZENXIN AGRI-ORGANIC FOOD (PENANG) SDN BHD |
| 59 | ZENXIN AGRI-ORGANIC FOOD SDN BHD  (JB) |
| 60 | ZENXIN D&H RESTAURANT S/B (KLUANG MALL) |