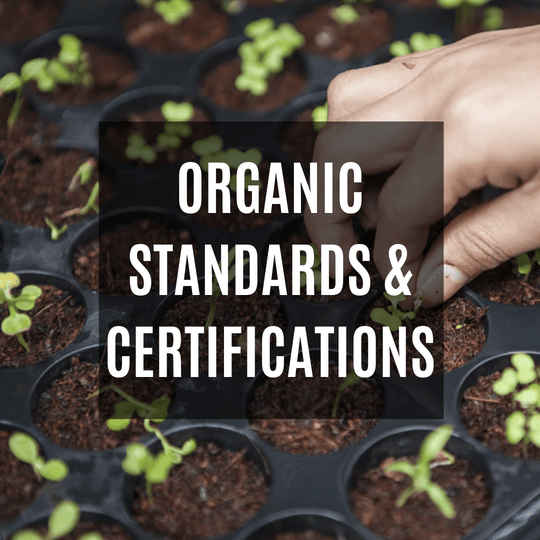 Organic Standards and Certifications
For many people, eating healthy means eating organic whenever possible. But choosing only organic foods can take effort and be costly – not to mention trusting and ensuring that the products you are buying and consuming are truly organic.
So how do you know and choose organic foods that you can trust?
Things to look out for when shopping for organic products
When you do your shopping for organic products, do look out for the organic certification mark and license or registration number on the packaging. The certificates should indicate the name of the company that pack and distributes the product that you are buying from. Especially if goods are repacked, the certification logo or certificates should make reference to the company selling it. This is to caution against self-claimed organic products. Just by reproducing the certification mark of the grower or processor on to the final packaged product is not certifying the product. A recognized certifying body must be appointed to conduct the audit trail of the products and the operation management and facility of the organic operator.
What is Organic Certification?
Organic certification is a certification process for producers of organic food and other organic agricultural products. In general, any business directly involved in food production can be certified, including seed suppliers, farmers, [food] processors, retailers, restaurants.
Requirements vary from country to country, and generally involve a set of production standards for growing, storage, processing, packaging and transportation.
Organic certification addresses a growing worldwide demand for organic food. It is intended to assure quality and prevent fraud. Always look out for the certification mark (logo) and the license number.
It is important to check that the certification is awarded to the party that is selling the product or in other words the custodian of the product.
GO ORGANIC WITH RADIANT
We are committed to deliver not only quality food, but more importantly food safety. We send our products for laboratory tests. It is sent to an accredited laboratory to test for some of these parameters; like Organophosphorus, Organochlorine for pesticides, heavy metal contaminant test, genetically modified organism test (GMO), microbiological test (aerobic plate count, yeast & mould, E.Coli, Coliform).
These various tests are done on raw materials and finished products and product shelf life. Packaging materials must be of food grade. The swap test on packing facilities and workers are done too.
The laboratory test is available upon request.
A brand you can trust
Radiant Whole Food products are third party re-certified organic by BIOGRO (New Zealand). Our organic certification is audited by BioGro New Zealand.
You may click on to this website below to verify the authenticity of the Radiant Code certification.
Look under Find a Certified Organic Producer.
BioGro NZ
BioGro NZ is the largest certification body in New Zealand and is accredited to various international regulations such as IFOAM, Canada organic, JAS organic and ISO65. It has a history of 35 years in organic certification.
BioGro NZ new logo with effect from February 2017
Bio-Gro Certified is your assurance that the food has met the standards set by Bio-Gro, New Zealand and its integrity is guaranteed from the farm to consumers. It guarantees that the highest organic standards have been met every step of the way i.e. Products have been produced in accordance with internationally recognized Organic Standards. These standards exceed the New Zealand government certifier's minimum requirements for organic food in many areas, especially in relation to GMO's, the use of pesticides and conventional animal health treatments. Its goal is to promote the highest of organic integrity. We achieve this because we are an independent organization.
We are in compliance to the Standard Organic Malaysia (SOM), now known as myOrganic Malaysia issued by the Ministry Of Agriculture and Agro Based industry. It is based on the Malaysian Organic Standards MS1529:2001 for production, processing, labelling, and marketing of plant-based organic food products.
Radiant Whole food products are also
Certified Halal by Jakim (Jabatan Kemajuan Islam Malaysia) a recognized and authorized body to certify food products Halal in Malaysia.
Packed in a facility that is certified by SGS Switzerland (Société Générale de Surveillance in 1919) a leading inspection, verification and certifying body.
HACCP (Hazard Analysis Critical Control Point) and GMP (Good Manufacturing Practice) compliant.
This will be the commitment of Radiant Code Sdn Bhd to uphold integrity, food safety and food quality towards our customers.
"The Food you eat can either be the safest and the most powerful form of medicine or the slowest form of poison." - Ann Wigmore.
Radiant Code Sdn Bhd. Your Truly Organic Partner!
Bringing wholesome safe food to your table from around the world is the mission of Radiant Code Sdn Bhd.