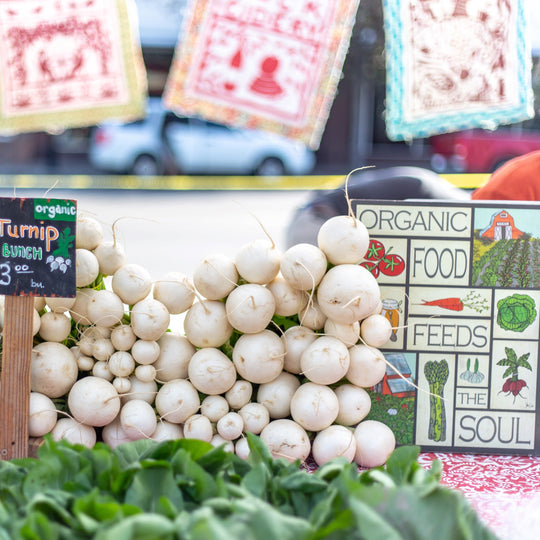 ORGANIC MARKET SCENARIO
June 2019
Are you buying organic certified products?
Beware of Commonly 'Greenwashed' Products
In Malaysia, organic sales are growing at a fast pace. That's good news for real organic companies, but it's also bad news for consumers who are trying to find true organic products.
Many companies, hoping to cash in on organic's success, may do the following:
Label their products with organic wording even if their products aren't organic
Use terms on their packaging that people often confuse with organic, such as natural or free from pesticides.
Try to confuse you by designing packaging that resembles organic packaging.This is called "greenwashing." Greenwashing is when a company tries to use eco-friendly, or in this case, organic terms or traits, to market and sell products when in reality the product is not honestly organic.
Shop for brands that are strict on these claims like the Radiant Wholefood brand.Whereby, you can check and verify their organic certification claims.
Many  stores are creating their own lines of natural and organic products, and you need to be very careful when buying them. While some of these store-brand products are indeed certified organic, many are not, and the store will go out of their way to make sure you think they are organic. Some brands are labeled with the organic seal when it is not certified organic.At times,you see ,they are packaged with almost identical packaging for both the organics and natural without the word organic or natural. If you don't see the organic seal, don't assume it's organic.

Shop with Wisdom.

January 2018
Nerve gas use in warfare is use as pesticides on agriculture.Some of the most common ingredients in pesticides are organic phosphorus compounds, also called organophosphates. Organophosphate pesticides are commonly used in and around homes, but related chemicals have been used as chemical warfare agents, specifically nerve agents.
A few of the chemical names of ingredients used in and around the home are malathion, diazinon, dichlorvos, fenthion, and chlorpyrifos. These are lower-toxicity pesticides used variously for home and garden pest control, veterinary treatments, agricultural pest control, and even treatment of head lice. If organophosphate insecticides are misused, they can be absorbed into the body in a number of ways: by drinking, inhaling, or by skin absorption. The most dangerous effects are on the nervous system. https://www.poison.org
October 2018
Click on to Organic Way way of Life. 
Can organic food help you reduce your risk of cancer? A new study suggest the answer may be yes.
April 2018
The BioGro audit went on well on April 11th.The renewed certificate should be out soon. The Jakim audit on March went on as planned with some minor corrections and halal certificate has been uploaded for your attention.We are sorry to inform the myOrganic certificate audit which was done in Novemeber 2017 is still awaiting the document to come out.Have repeatedly checked with Organic Alliance Malaysia (OAM) which conduct the audit.Apparently it has been held up at department of Agriculture due to typo error.Do have patience it should be ready soon.
We received news that millet Australia will have a shortage due to drought and harvest will normalised in April next year with the new harvest.Meanwhile we have to bear with in conversion millet.It will be labelled on packaging should the in conversion millet arrived.In-conversion are products which have been grown on land which was previously used to grow non organic products.The products harvest from such land in these 3 years cannot be called organic eventhough it is grown without chemical fertilizers or pesticides.After 3 years period,crops grown on this land can then be termed organic products.
November 2017
The latest Australian Organic Market Report reveals the nation's organic industry could be anticipated to reach or exceed AU$2 billion by 2018!
The Australian Organic Market Report is a highly respected publication commissioned by Australian Organic. It tracks industry and consumer trends in the Australian organic marketplace based on research by the Mobium Group and the University of New England.
The 2017 Report has some interesting industry stats including:
The number of certified organic operations in Australia grew by 5%.
The tonnes of organic products exported from Australia grew by 17%.
Bakery items showed more than four-fold export growth between 2015 and 2016.
Exports of sheep/lamb meat, cosmetics, alcoholic drinks, dairy products and chicken all showed exceptional growth.
Australia has 53% of the world's organic farmland.
Plus information about organic shoppers:
More than two out of three Australian households say they bought at least one organic product in the past year.
Personal health for the buyer and their family is the strongest driver.
Fruit and vegetables, dairy and home-cooking ingredients are the leading food basket categories for organic shoppers in 2016.
Most shoppers are aware that certification marks are used on organic products as a 'guarantee' of authenticity.
An organic certification mark increases the confidence of two-thirds of all shoppers in the certified product
Oct 2017
BioGro New Zealand is starting to do Non-GMO certification programme. They recognised the need for clarity about non-GMO labels, especially at a consumer level. Providing this programme really enables an authentic and trusted logo to be used, and this helps to determine whether a claim really is genuine. Read more.
July 2017
Hong Kong Consumer Council  tested about 60 cooking oil samples and found some brands to contain  chemical that can cause cancer and hazardous to health. It is good to report that the Clearspring Oil, bothTunisian olive oil and sunflower frying oil that were tested by HKCC are completely free from  3-MCPD and epoxy propanol oil.It is safe for health.
March 2017
Let's cheer up and stay positive.Although market seems slow and prices of food has gone up for both conventional or organic,life still needs to go on.It is important to be mindful in our shopping.Of late, there are many self claimed organic food in the market.The packages will have certification logos that you need to verify yourself.In March we have put up prices of some items as it is not possible to hold on any longer.We have been very busy with our HACCP and GMP audit.The BioGro  organic audit is round the corner.The team is mindful that good  operation practices is a whole year round task not a day or two work.Keep up good effort  Radiant team!
December 2016
Year 2016 will be coming to and end soon.We saw the Malaysian Ringgit weakening to a RM4.50 to a US Dollar.Most organic imports are badly affected with an unavoidable price hike.It will also affect the decision to drop some products which will be too expensive to carry.It has not been an easy year for importers with the weakening of the currency.Retail market has been soft and the people are cautious with their spending.Let's stay positive and welcome year 2017.Stay Healthy!


July 2016
It is good to report that the Australian organic Oats supply has normalized over the last  6 months.However Australia  organic raw honey has a shortage including Full cream milk from Living Planet. It is quite normal during winter season and supply will get back to normal in spring/ summer.We are proud to report that Radiant code sdn Bhd is myOrganic certifed By dept Of Agriculture Malaysia for our organic products.


March 2016
It is good to report that the food prices has stabilised.At least the wheat,oat and the basic grains and beans prices has no news of increase.
There was a recent case of a Brand called Evergreen manuka honey been banned in Singapore.It was found to have non permitted additives in it.
Radiant Code gave the assurance that our Organic certified Woodlands manuka honey including the natural Radiant Raw manuka honey have all records of tracebility to the bee hives farm.Laboratory test are done and proper certification are available for customers to verify the MG and organic status. Rest assured you are buying ipremium and safe quality of the manuka honey from us..
December 2015
Farmers have been battling  drought which brings low crop yields for Australia oats.Combine with the increase in demand on all oats especially orgnic oats in the end season,the price hike is very likely.
Do look out for the new Clearspring range of bottled beans,saukraut and bake beans.Dried apricots are back in stock after the recent harvest but prices still maintain high. Good to know chia seeds price is down but do look out for organic certfied chia seeds. Snack food like the Radiant crystallised ginger, sesame sticks,Sunny bears gummies are slowly gaining popularity. remember to look for the Clearspring Quick Cook range of grains and lentils. Look out for our gluten free pasta from Australia soon. 
Good to announce that Radiant Code Sdn Bhd is now certified organic by the Standard Organic Malaysia standards too to comply to the Ministry of Agriculture requirement  for organic industry in Malaysia.It is now known as myOrganic (formarly SOM).
September 2015
The past 9 months has indeed been challenging. With the implementation of 6 % GST, the market has shown signs of slowing down. The weakening of the Malaysian ringgit has caused imports to increase by 15- 30%. There are also short supply of some products .Some of the badly affected products are wheat,beans, raw honey,manuka honey,pasta and many processed food. Quinoa which has high increase in prices last year has come down due to normalise supply again. California experiences  prolonged drought and it has affected poor  harvest and increase in prices of dried fruits like prunes and raisins.
May 2015
Australian grown flour and oats was faced with a price increase too. American imports like legumes,raisins,prunes, also was not spared and its prices rose greatly also with the weakening of the Malaysian ringgit versus the US dollars.
January 2015
The year started with manufacturers pressure to increase prices as organic food demand has increase and with bad weather in most places like drought in Australia,it has causes the supply of organic raw honey to dwindle.For the past few months honey supply was bad.Not only in Australia but also in New Zealand especially the short supply of high activity or high MG manuka honey versus the global demand.There was stringent regulations towards the supply and labelling of of manuka honey.This to prevent fraudulent and mislabelling of manuka honey.
August 2014
Organic Quinoa
The trendy sweetheart food of first world hipsters everywhere, is getting a lot of press these days. 2013 was declared the International Year of Quinoa by the Food and Agriculture Organization of the United States, and offbeat foodies everywhere have taken to quinoa with a surprising enthusiasm.
However, quinoa has become such a premium commodity that it's becoming unaffordable even for the farmers that grow it. And because of those high prices, Bolivian farmers have become entangled in land disputes that sometimes turn violent.
According the The Guardian, the price of quinoa has tripled since 2006, which has made it an unrealistic candidate for staple food among groups that used to rely on the protein-rich pseudo grain for sustenance. A January investigation by The Guardian revealed that quinoa was more expensive than chicken in Lima.
Speaking to Time magazine, Bolivian farmer Benjamin Huarachi commented on the extreme shift in the world's perception of quinoa. "Quinoa was always comida para los indios [food for Indians]," said Huarachi, adding "Today it's food for the world's richest."
Organic Apricot.
World's larger apricot producer Malatya (province of Turkey) experienced a major frost at the final week of March.
Higher (than expected) temperatures on January and February caused fruit trees to bloom early which made them more sensitive to frost. It's said that approximately 80 percent of total apricot crop is damaged, especially at the regions with a high altitude. Market prices are surged as the farmers and stockists stopped supply by thinking that 2014 crop will be very weak 
Organic Honeys.
Australia's beekeepers are experiencing one of their worst years in a long time. ABC Newcastle's Carol Duncan spoke with third-generation Canberra beekeeper, Carmen Pearce-Brown about her concerns for Australia's honey future.
"There's been a small harvest this year compared to other years, for some beekeepers it's up to 90% less than other years. It's a honey shortage," said Carmen.
"It can happen every now and then but this year's harvest would be one of the worst we've ever had, one of the worst in living memory, we think. It's partly the weather - we had a very hot summer - but there's a few reasons and it's creating a bit of a perfect storm."
Carmen is concerned that as Australia's beekeepers age, no-one is coming in to the industry to replace them, "There are less beekeepers than in previous years so the expertise that beekeepers have now is probably declining a bit as our beekeepers start to age and retire. So perhaps beekeeping is becoming a good business opportunity - IF you can get honey,"

Organic Chia Seeds
All chia seeds are NOT created equal.Its quality,flavor and ability to absorb water to gel up and bloom is different.Also its tapioca like texture versus generic chia seeds. Look out for good quality ones and organic ones.That's where the price difference.
Organic Gojiberry
There are questions asked as what is the different between gojiberry, wolfberry or lycium barbarum. They refer to the same item.When we were importing the organic gojiberry,we found a wide difference in the price.It was highlighted to us that it is important to get the organic gojiberry that has been laboratory test for each batch. It has to be tested to be free from sulphur ,organoleptic inspected and most important to be free from hard metals( lead,arsenic,mercury). There are many gojiberries that claim to be organic but when tested for hard metals it failed.